His name was Cuauhtlatoatzin, which means, "Eagle that speaks". One day, he suddenly heard a soft, sonorous and melodious music. That sound was Our Lady of Guadalupe!
It is generally thought that Juan Diego was a "poor" indigenous person and of "low social condition". However, we know today, from various testimonies, that he was the son of the king of Textoco,
Netzahualpiltzintli, and grandson of the famous king Netzahualcóyolt. His mother was Tlacayehuatzin, descendant of Moctezuma and queen of Atzcapotzalco y Atzacualco. In these places Juan Diego was the owner of land and other goods.
It was to this representative of the indigenous ethnic groups of the New World that, almost five hundred years ago, the Mother of God appeared bringing a message of well-being, sweetness and softness, whose light continues to this day.
We must take into account to the psycho-religious environment of that time in order to understand the magnitude of Our Lady's message.
The numerous ethnic groups that inhabited the Anahuac Valley, present-day Mexico City, had lived for decades under the despotism of the most powerful tribe, in which bloody idolatrous rites were routinely practiced. Every year, thousands of young people were sacrificed to keep the "fire of the sun" burning. Cannibalism, polygamy and incest were part of his life.
The zealous missionaries, who arrived together with the Spaniards, saw the urgent need to evangelize that town, extirpating such disgusting customs.
Meanwhile, the bad habits acquired, the difficulty of the language and, above all, a certain indigenous pride in not accepting the "God of the conqueror" to the detriment of their divinities, made the task of introducing the Light of the world into that environment difficult.
Our Lord God, in his infinite mercy, wanting all men to "be saved and come to the knowledge of the truth" (1 Tim 2, 4), was preparing a wonderful solution for this impasse.
Our Lady appears to Saint Juan Diego
On December 9, 1531, Juan Diego was in the surroundings of the Tepeyac hill, in present-day Mexico City. Suddenly, he heard a soft, sonorous and melodious music that, little by little, was extinguished. At that moment he heard a beautiful voice, which in the Nahualt language called him by his name. It was Our Lady of Guadalupe!
After greeting him with much affection, she addressed him these words full of kindness: "Know it, be sure, my youngest son, that I am always the perfect Holy Virgin Mary, Mother of the most true God for whom one lives, of the creator of people, owner of closeness and immediacy, owner of heaven, owner of earth.
I very much want, very much desire that a temple be built here, to show and give all my love, my compassion, my help and my salvation in it. Because truly I am your compassionate mother, to you, to all of you together, the inhabitants of this earth and to the rest of my lovers who call on me and trust me; I want to hear their laments there and remedy all their miseries, sorrows and pains ".
The Virgin asked Juan Diego to go to the palace of the Bishop of Mexico, and inform him that she was sending him and requesting the construction of the temple.
The "Messenger of the Virgin" went to meet with the Bishop of Fray Luis de Zumárraga, to whom he narrated what had happened, but he was incredulous, summoning him for another day.
Second and third apparition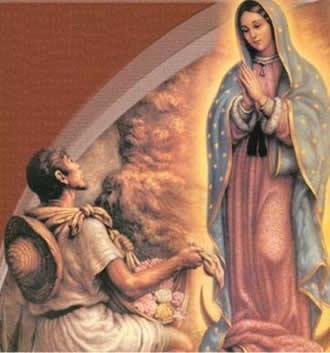 On that same day, at sunset, Juan Diego, saddened, goes to give an account to the Virgin of his failed mission. And with charming innocence, he asks Her to choose a more worthy, esteemed and respected ambassador. The Mother of God replied: "Listen, the smallest of my children, be sure that my servants, my messengers, who I entrust to carry my message and do my will, are not scarce. But it is very necessary that you, personally, go, and that through your intercession my will, my will, be carried out. And I beg you very much, my youngest son, and I strictly command you, that you go again tomorrow to see the Bishop. And let him know in my name, make him hear my love, my will, so that he can carry out, make my temple that I ask of him. And again tell him that I, personally, the ever-Virgin Holy Mary, Mother of God, send you ".
The next day, after attending mass, Juan Diego returned to look for Bishop Zumárraga, who received him with attention but, more skeptical than before, told him that "a sign" was necessary to prove that he was really the Queen of Heaven who sent him. Juan Diego answered that yes, she did, and also he is going to ask the Lady for the requested "sign".
As the sun went down, as in the previous times, Our Lady appeared radiant with sweetness. She accepted without the slightest reproach of her granting him the sign requested of her, for which she summoned him the following day.
He flees, she goes to meet him
However, the next day, Monday the 11th, Juan Diego does not show up for the appointment. His uncle, Juan Bernardino, had suddenly fallen ill, and he tries by all the indigenous medicinal resources to cure him. It was all in vain. When his uncle sees that death is approaching, him been a fervent Christian, he asks his nephew to try to bring him a priest to assist him.
Juan Diego, in a hurry, leaves at dawn on the 12th in search of the confessor but decides to take a different path than usual, so that the "Lady of Heaven" does not meet him, because, he thought: "she will ask me for an account of her order and I will not be able to go in search of the priest ".
But his ruse doesn't work.
To his amazement, the Mother of God appeared to him on that road. Embarrassed, Juan Diego tried to apologize with formulas of courtesy typical of indigenous custom: "My young lady, my youngest daughter, my child, I hope you are happy." And after explaining his uncle's illness, as the cause of his lack of diligence, he concluded: "I beg you to forgive me, because with this I am not deceiving, my youngest daughter, my girl, tomorrow without fail I will come in a hurry.
To which the Virgin responded, with kindness and affection:
"Listen, and put it in your heart, my youngest son, that there is nothing that scares and distresses you. Let not your face, your heart be disturbed; do not fear this disease, or any other disease and anguish.
Am i not here, me that I'm your mother? Are you not under my shadow and shelter? Am I not the source of your joy? Are you not on my lap? Do you need anything else? Let nothing else afflict you or disturb you. Don't be saddened by your uncle's illness, because he won't die from it for now. Rest assured that he has already healed ".
Sign for the "Messenger of the Virgin"
So when he heard those beautiful words, Juan Diego,
very consoled, believed in the Virgin. Now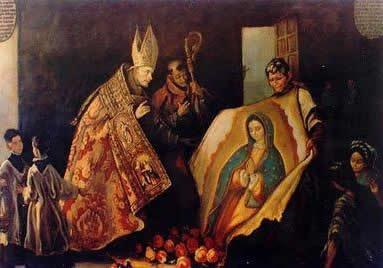 the mission had to be accomplished. What was the signal? She orders him to climb the Tepeyac hill and cut the flowers that she there she will find her. Impossible task, since there never were, and even less so in that time of intense cold and dryness. But Juan Diego does not hesitate. He climbs the hill and at the top he finds the most beautiful and various roses, all perfumed and full of dew drops as if they were pearls. He cut them and placed them on his tilma (typical poncho of the Mexican Indians). Upon reaching the bottom, Juan Diego showed the flowers to Our Lady, who touches them with her heavenly hands and puts them back on her tilma.
"My son, the smallest, this diversity of flowers are the proof and sign that you will take to the Bishop. You will tell him from me to see my will in her and he has to fulfill it. You are my ambassador in whom I absolutely place all my trust. I strictly order you that only in front of the Bishop you unfold your blanket and discover what you are wearing ".
Juan Diego went back to Bishop Zumárraga's palace and after much waiting and struggling with the servants, he ushered him into his presence. The "Messenger of the Virgin" began to narrate everything that happened with Our Lady and at a certain moment extended her tilma, discovering the sign. The most precious and perfumed flowers fell and, instantly, the marvelous Image of the Perfect Virgin Saint Mary Mother of God was miraculously stamped on the fabric, which is venerated until today in the Shrine of Guadalupe.
Deep ecclesial and missionary sense
Thus was the great apparition, the first result of which was the large-scale conversion of the natives. "The Guadalupano event – points out the episcopate of Mexico – signified the beginning of evangelization, with a vitality that exceeded all expectations. The message of Christ, through his Mother, took the central elements of indigenous culture, purified them and gave them the definitive sense of salvation. " And the Pope completes: "This is how Guadalupe and Juan Diego took a deep ecclesial and missionary sense, being a model of perfectly inculturated evangelization" (Canonization Mass, 7/31/2002).
For this reason, he determined his Holiness that on December 12 the feast of Our Lady of Guadalupe, Mother and Evangelizer of America (Apostolic Exhortation Ecclesia in America) be celebrated throughout the Continent.